Miag-ao's Salakayan Festival
A reflection of ancestral bravery and weaving wealth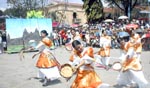 The Miag-aoanons are known in the region as among the bravest people in the local history. Further, this humble town kept an age-old weaving wealth that has left unfading marks of relevance in the hearts of the Ilonggos . Its world-renowned age-old church which is included in the Unesco's World Heritage List add glitter and significance to the town's greatness. In the light of cultural revival, preservation, and appreciation to boost the town's tourism potential and cultural treasures, the government officials, educational institutions, cultural enthusiasts and the peace-loving people of Miag-ao organized a unique festival that would reflect the greatness and valor of their ancestors who defended their land from the cruel moro marauders from the south long time ago. Even back before the Spaniard's occupation of the Philippines , this town was blessed with brave native folks who gave outmost importance to their age-old weaving wealth as seen in the famous " hablon " and " patadyong " fabric. The progressive weaving of local fabrics made Miag-ao famous especially to the some great designers around the world.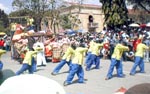 Thus, this significant and exceptional annual town event was called " Salakayan Festival" as a way to reminisce the past, the greatness and the splendor of history wherein Miag-ao became the cradle of rich cultural heritage. This year seven tribes displayed and expressed their cultural sentiments of being true Miag-aoanons through well-choreograph dances, panoramic multi-colored costumes, relevant themes and devotion to the Almighty God. The tribes that participated this year were Tribu Kabuswagan of Miag-ao National High School, Tribu Salagyawan of Alejandro Firmeza National High School, Tribu Bantalaan of San Rafael National High School, Tribu Hugpong of St. Louise de Marillac School, Tribu Daplong of Southern Iloilo Polytechnic College-WVCST Campus, and Tribu Wari-wari of Kirayan National High School. Various guests and festival enthusiastic crowds gathered to witness the spectacular tribe competition last Sunday, February 6, 2005 . Roaring cheers and applause from the crowd that were mesmerized by the kaleidoscopic cultural presentations filled the three judging areas. In the afternoon, a vigorous street dancing filled the main streets of the town. Finally, Tribu Daplong gloriously reigned as this year's Salakayan Champion while Tribu Kabugwason settled for the First Runner-up place and the Second Runner-up title went to Tribu Hugpong of St. Louise de Marillac School.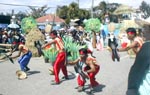 Overall, the Salakayan Festival was truly a wonderful
success as seen in the camaraderie, unity and oneness of hearts of the gentle-loving people of Miag-ao headed by their ever-prolific mayor, Gerardo Flores. Next year will be more challenging and tough but the Miag-aoanons are deeply optimistic that any crisis and obstacles is worth overcoming because of their nature to survive. Hail Salakayan Festival! Hail the Miag-aoanon Spirit !!!
(Show your valor for your heritage! e-mail the author at rslphoenix@yahoo.com)