Dinagyang fires opening salvo
Both local and foreign tourists had a glimpse of the participating tribes for the 2008 Dinagyang Festival Tribes Competition when the opening salvo blasted off along selected streets of this city last Friday.
Dinagyang is observed every fourth weekend of January in honor of Señor Sto. Niño. This
year, the festivity revolves on the theme "One heart, one mind for Senor Sto. Nino."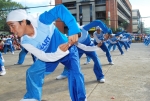 Ben Jimena, City Tourism Officer and Festival's Executive Director said the participation of the tribes in the opening salvo as well as in other 2008 Dinagyang activities determined by the Dinagyang Foundation is one of the requirements of the competition.
The Dinagyang Ati-Competition is one of the highlights of the festivities where tribes composed of dark-brown colored warriors perform in music dominantly using drums in identified judging areas.
Unlike in the previous years, the 20 competing tribes on Sunday, January 27, will perform in four judging areas instead of five. These judging areas are the Freedom Grandstand, Provincial Capitol, Quezon-Ledesma and Ma. Clara Rotunda.
The 20 competing tribes are Tribu Ivatan, Baryohanon, San Pedro, Binhi, Hamili, Paghidaet, Angola, Kalubihan, Molave, Ilonganon, Pag-asa, Silak, Pana-ad, Atub-Atub, Himala, Familia Sagrada, Aninipay, Pari-anon, Ang Taga Jaro and Bantu.
For two years in a row, the Dinagyang Festival had been cited by the Association of Tourism Officers of the Philippines (ATOP) as Best Tourism Event in the country. It has also received international recognitions such as given by the United Nations Development Programme in a CityNet conference in Katmandu, Nepal as Best Practice in the Promotion of the Localization of the Millennium Development Goals and by the Asian Development Bank as Best Practice in Public and Private Cooperation.
Last year, Dinagyang also emerged first runner-up in the Aliwan Fiesta 2007 held in Manila and awarded Best in Music in the Western Visayas Tourism Assembly held in Bacolod City. (PIA)