MEZZO Magazine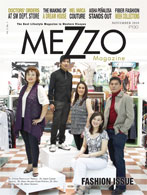 MEZZO [met-so] is a glossy, full-color, monthly lifestyle magazine that caters to the Western Visayas market. The main goal of this exciting, new magazine is to place the life and culture of the people of Western Visayas in the forefront, as well as to provide a venue for local personalities, artists, organizations and business establishments where they can showcase and promote their interests, causes, advocacies, products, and services. It also aims to become the go-to magazine for fresh, up-to-date information on a multitude of subjects ranging from social issues, entertainment, and pop culture, to interesting features on fashion, beauty, food, health, home, and a lot more.
Publisher
TNT Publishing, Inc.
Chairman of the Board
Rosendo G. Mejica II
President
Christopher Y. Montero
Treasurer

Dr. Florentino P. Alerta II
Corporate Secretary
Marichel Teves-Magalona
Mezzo Staff
Managing Director
Marichel Teves-Magalona
Editor-in-Chief
Kathy M. Villaon
Administrative Officer
Mennen M. Sang-Alan
Dulce M. Gayondato
Account Specialist
Mary Claire B. Tabucon
Creative Consultant
Christopher Y. Montero
Graphic Designer
Anita M. Santero
Photographer
Stephen Tabares
Contributors
Feature
Christian Gregoire Tioco
Rhea Peñaflor
Fashion
John Montinola
Home
Janice Busil
Health & Beauty
Dr. Doris Mendoza
Travel
Kevin Piamonte
Culture
Eugene Jamerlan
Photography
Ace Aceron
Michael Pete Salmo
Glen Jumayao
Contact Information
Mezzo magazine has its business and editorial offices:
Address
251 Lopez Jaena St. Molo, Iloilo City
Telefax
336-9788, 300-0186
E-Mail
marketing@thenewstoday.info
Sms
(0922)851-5154
Entered as second class mail at the Iloilo City post office.