Executives of Panay Energy Development Corp., operator of the 164-megawatt coal-fired power plant in Brgy. Ingore, La Paz District in Iloilo City, yesterday refused to admit the foul odor that downed residents, including school children, in the area came from their facility.
The brown plant hopper infestation in Iloilo province has spread to eight more towns, bringing to 18 the number of local government units affected, with damage to rice plantations reaching 1,329.975 hectares as of yesterday.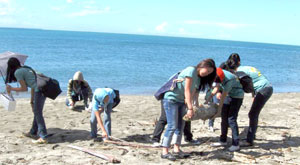 PIA 6
Villa Beach has high coliform level and is therefore unsafe for swimming, said Engr. Noel Hechanova of the City Environment and Natural Resources Office.
He said the coliform contamination in the area is at an alarming state.
The problem is caused by incorrect septic designs of residents, he said.
The dirt or effluents coming from the septic tanks cause pollution in Villa beach, which usually happens in a densely populated area, he said.