Amigo Plaza Mall grants Christmas wishes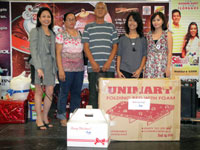 TMX's Dr. Mae Panes with Candy Hechanova and Raissa Tamayo awarding one of the 10 recipients of Christmas wishes provided by TMX to Manong Edwin.
THE Amigo Plaza Mall, a member of La Filipina Uygongco Corporation group of companies, launched the project "Paskwa sang Amigo, Hamdum mo, Tumanon Ko" together with ABS-CBN Iloilo and Aksyon Radyo Iloilo.
The objective of the project was to grant the three most touching wishes sent to Amigo Plaza Mall, Aksyon Radyo and ABS-CBN offices. More than 200 letters were received for just a week of running the program. The chosen winners were visited last December 16 and a big star was lighted in their homes for them to feel that this Christmas there must be no room to be despondent, there should always be hope in our hearts.
God works in mysterious ways that through Amigo Plaza Mall, Aksyon Radyo, ABS-CBN and TMX not only the three winners' wishes were granted but 18 more letter senders went home with big smiles.
Hosts ABS-CBN's Regie Adosto and Aksyon Radyo's May Dela Cruz read and shared the stories of the three winners and their wishes that made the audience so moved and teary eyed.
The RCP Ritmo Tambores band, Rais and More band, Tribal Quest dancers and Candy Hechanova made the audience enjoy the program with their awesome song and dance performances.
Amigo Plaza Mall administrator Gig Sy promised that this meaningful project will be done every year. That making the people happy for having their wishes granted is making her and the management of Amigo happier. ABS-CBN Iloilo station manager Charie Ilon gave her inspirational Christmas message while Aksyon Radyo's Joel Tormon shared a story reflecting the essence of sharing this Christmas.
It was a wonderful afternoon of sharing the touching stories of the recipients, of entertainment and of giving which is the real spirit of Christmas. The Christmas project was organized by TMX for Amigo Plaza Mall.