Race to the Sun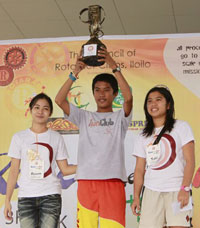 Bengie Villagracia bagged the 1st place for 3K Men's Category.
Another early weekend morning rolled around with 346 enthusiastic runners who took over half of the road from SM City to Promenade.
A Pro-health Fun Run: Race to the Sun with a 3-kilometer and 5-kilometer race was organized by the Council of the Rotaract Clubs, Iloilo for the benefit of the council's large scale medical mission and the Red Cross Youth Iloilo.
The project was headed by Raem Ivory Superio, council chairman and Tala Marie Taningco, vice chairperson and the run's over-all leader.
For 8 minutes and 24 seconds, Bengie Villagracia bagged the 1st place for 3K Men's Category and Rodelyn Sivdres with a total time of 12 minutes and 30 seconds for 3K Women's category. For 5K Men, Rommel Hullega finished the run 1st for 15 minutes and 57 seconds while Janine Arrey, for the 5K Women run, finished in 21 minutes and 33 seconds.
The event was supported by the Rotary Clubs, Red Cross Youth Iloilo volunteers, participants, Chem Printers and Traders, Al Sports and Uniforms, Harder Art Prints, Sanispring Water Systems Marketing, Classique Herbs, Shelley Arts and Crafts, Boracay Terraces Resorts, Sens Bien Spa, San Miguel Corporation, SM City Iloilo and Hotshots.
The different Rotaract Clubs that were involved were Rotaract Club of Iloilo City, Rotaract Club of Iloilo South, University of San Agustin Rotaract Club (Rotaract Club of Iloilo), Rotaract Club of ACSI Business and Computer School (Rotaract Club of Midtown Iloilo), and Rotaract Club of Jaro Centraline (Central Philippine University).