Tilipunan Center Celebrates 30th Anniversary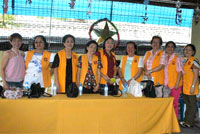 Zontians Jonella Zerrudo, Yolanda Galvez, Alice Zerrudo, Aida Dichupa, Ruth Jarantilla, Ma. Amelita Lazaraga, Virginia Segovia, Teresita Apistar, and Aileen Capalla.
In the last 30 years, the Tilipunan Center in Tanza served as a center for learning for kids as well a venue for livelihood training of adults living within the barangay. This is a project of the Zonta Iloilo City Club I. When the center turned 30 years old, the club celebrated it through a feeding and gift giving for kids and senior citizens. The guests were treated to native food like kutchinta and maja blanca made from squash. These were made by the mothers who took part in a cooking demo-cum-training a few weeks before the event.
With some things as noble as the Zonta Iloilo City Club I and the Tilipunan Center, we believe that they will last for another 30 years and even more.